Ah, "democracy"....
The much bandied about word has a different personal meaning to everybody. To some it means the right to launch wars in the Middle East, to others it signifies the right to protest against your government.
To me, democracy means a duty to be involved in selecting the future direction of your country. So when Prime Minister Vajpayee scheduled elections for late April, I knew that my duty required me to caste my vote. Alas reforms to the Elections Act mandated that absentee ballots are no longer permitted for Indian citizens resident abroad. No matter, time for a quick trip halfway across the world. After all, its not every day that one is priviledged enough to participate in the largest democratic exercise that the world has ever seen.....
I arrived very early at Terminal 3 for my KLM flight and was one of the first passengers to checkin. The flight was horribly oversold and I was offered US$300 plus the value of my flight coupon if I was willing to wait 2 days. No matter how tempting that seemed, I hate a greater calling this time so I declined the bump. Sacrilige, I know.
After a leisurely Heineken at the KLM lounge with a friend, I caught the shuttle across to the new Terminal 1 for a quick tour of the facility. It was impressive overall, but considering that it cost as much as Kansai did I expected far more from it. Still, for a Louis Turpen project what else could one expect.
Back to Terminal 3 since boarding was about to commence, but I was flagged down by the KLM staffer who had checked me in earlier. "Mr. Mendis, as a valued Platinum Elite member would you be so kind as to accept this complimentary upgrade to World Business Class?". Score! This also meant that I was maintaining my streak of operational upgrades on the Toronto - Amsterdam route - the fourth consecutive time this has happened to me!
In the end, boarding was delayed almost an hour as the cleaners worked on our aircraft. Today's ride was to be PH-BFA aka "City of Atlanta" - KLM's first Boeing 747-400. With seat 1B assigned, I made sure I was one of the first aboard, allowing me to down two glasses of champagne while the masses shoehorned themselves into proletariat class behind me.
Dinner was quite a disappointment after the wonderful Air Canada ExecutiveFirst meals I had gotten used to in recent months. Overall the meal was adequate, but a big fall from what I've usually had with KLM.
After laughing my way through "Love Actually", I slept for a few hours, awakening as breakfast was being served. Then it was time to freshen up before we made our approach to the Polderbaan. For those unfamiliar with Schiphol, the Polderbaan is the new runway 18R and is located literally miles away from the terminals. It was a good 20 minute taxi by the time we disembarked at gate F1 and I had a long hike to my Frankfurt connection on C concourse to follow.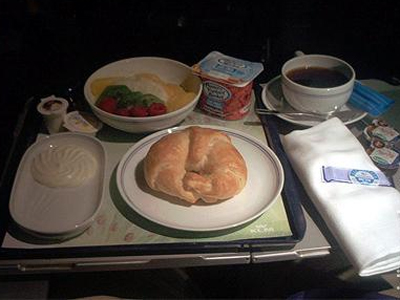 A quick detour to the lounge to freshen up and it was time to board the bus taking us out to our remote bay where our F70 awaited. Often referred to as a Dirty Little Motor Fokker (say it out loud to get the joke), this aircraft was a regional jet before RJs were cool. The 43-minute flight over to Frankfurt was also packed and featured a ham sandwich service. Again, thanks to the morning rush hour, we had to park at a remote bay and ride the bus into the terminal.
With two Air India flights to Mumbai leaving within hours of each other, I decided to try my luck as a nonrev on the earlier one which was the 744 service in transit from Chicago. With 160 of the 297 passengers boarded at Chicago alighting at Frankfurt and only 34 replacing them, the lady at the counter didn't even hesitate before checking me directly in to Business Class.
After a quick detour to the airport supermarket to fulfil my mother's shopping list, I headed back through passport control towards gate D1 around 11am for an 1145am departure time. To my complete surprise, the gate area was completely deserted save for one agent who was frantically gesturing for me to hurry up. Turns out that since everyone was already aboard, they had decided to send the flight off early and I was the last straggler at T-minus 45!!
There are few more embarassing things than to be greeted by a crewmember when boarding an aircraft with "Oh my God Sean, you've put on so much weight!!!" Still, it was good to be recognized and I shook hands warmly with Derek, the brother of a very old family friend who escorted me up to my seat. We pushed back almost immediately and taxied out to runway 18. As we headed past the Lufthansa Technik building I was able to snap an awesome self-portrait of the aircraft reflected in the mirrored windows there. There was a minimal wait for the runway at this hour and we were actually airborne at 1138am, seven minutes ahead of schedule.
The cabin crew upstairs featured one of Air India's brand new hires, so everything was done fancy-schmancy and by the book. The poor girl forgot to set a coaster down for my preflight orange juice and was very flustered when I pointed out the omission to her. Still, she redeemed herself nicely with a well mixed Bacardi and 7-Up cocktail after takeoff.
Lunch was somewhat disappointing. Against the reccomendation of the Purser, I went with the Roast stuffed shoulder of lamb with Charcutiere sauce, Duchess Potates, Asparagus and Sauteed Vegetables instead of the Goa Prawn Curry with Steam Rice and Spiced Vegetable. The lamb itself was excellent, but the sauce and the vegetables weren't quite up to my high expectations for Air India catering. Still, it was better than the KLM dinner and the excellent Black Forest gateaux was a fine choice for dessert. A fresh fruit basket was a nice touch at the end of it all.
Our aircraft today was "Khajuraho", a ten year old veteran of Air India's fleet that had recently been retrofitted with the fabulous new Executive Class seats upstairs. To be quite honest, I'd heard good reviews about the seats but actually sampling them for an 8 hour flight far exceeded my expectations. In the 160-degree inclined flat sleeping position, these were significantly more comfortable than the KLM seats I had just stepped out of and definitely among the most comfortable 3-class Business Class seats out there. The seats feature in-seat Empower ports (standard 110V AC), electronic controls with three presets and a very cool drinks table that was initially intended for personal DVD-players - but in the absence of that IFE system have found a new utility!
After a very restful sleep of almost 4 hours, I headed downstairs to chat with Derek and some of the other crew. Time passed quickly as we flew over Iran and Pakistan and the first indication that we were about to arrive was when Derek started hunting for the destination video to play on the antiquated IFE system. I took my leave and went back upstairs where the new girl had thoughtfully kept a pre-landing snack tray aside and warm for me, even though I was not in my seat when they had conducted the service. Two thumbs up for her!
We touched down on runway 27 just before 10pm, almost 90 minutes ahead of schedule. I was one of the first through immigration and customs barely gave me a second glance as I headed out to be greeted by my parents. Traffic wasn't too bad and I was in my bedroom at home by 11pm, a good 15 minutes before we were even due to arrive! So much for the fallacy that Air India is always late....
The week that I spend in India was honestly quite surreal. The entire country was caught up in election fever, so naturally the various news outlets were lapping up every angle on an election-related story that they could get their hands on. Thanks to a friend of mine who happened to mention my democratic pilgrimage to a newspaper editor, the spotlight just happened to fall on me for a while.
I was extremely surprised to be disturbed at lunch one day by a call from a reporter named Priscilla with Sunday Mid-Day. She explained that she was doing an election-related article about what motivates people to vote and her editor had suggested she get in touch with me for a quote. We chatted for a few minutes and she thanked me for my time and I expected that to be all. It was just the beginning... About an hour later, she called back. Evidently the editor was so taken up by the story that she had authorized a longer feature about me, to be completed by the 8pm deadline for publication the next day! Would I be willing to answer some more questions? And would I mind if they sent a photographer over? Oh boy. Still, its all in a good cause.
The article in the next day's paper surprised even me. It was the lead story on page 3 with a box on the front page alerting readers to it. The newspaper web site even had it as their banner headline. Whoa. The phonecalls started pouring in from folks I hadn't spoken to in years. "Great job", "Damn, you've put on weight" and "Why didn't you tell me you were coming down?" were the three most common themes. Ah well, everyone gets their 15 minutes of fame.
Well, my 15 minutes was about to stretch itself into an hour. I was at lunch with my cousins that afternoon when my cellphone rang. It was "Aaj Tak", India's largest all-news cable TV channel. Their bureau chief had spotted the article in the morning paper and wanted to know if I would be willing to film a piece for them. Uh, I guess so. Great, we'll have a camera crew over at 5pm.
I had expected this to be a short 1-2 minute standup shot with a quote or two for inclusion in a larger story, but again I was surprised. We shot about 15 minutes of conversation in Hindi on topics as diverse as democratic responsibility, issues facing non-resident citizens and election apathy among urban youth, followed by another 15 minutes in English on the same subjects. It was quite strange to sit back at the end of it and watch the reporter shoot her closing in my living room!
The next day was election day, and I expected that this would be the end of it. Not likely. Three radio stations called before 9am to invite me to go LIVE on air during their morning shows. One particularly ebullient host even introduced me as "a shining example to India's youth". Jeez, talk about stoking my ego!
The two major candidates in my constituency (Mumbai North-West) were the incumbent Sunil Dutt of the INC and Sanjay Nirupam of the ShivSena. With Dutt a virtual shoe-in for his 5th term, he didn't bother too much with campaigning in our locality, while his opponent virtually blanketed us with flyers, speeches and negative ads. There were also about a dozen independant candidates running, but nobody really gave them even half a chance.
This was the first election in India to be entirely electronic. The voting process was quite interesting as a result, a typically Indian fusion of hi-tech and lo-tech. All eligible voters received their registration card in the mail giving details of the polling station and other information. If you didn't receive your card, you could check the voter lists online at http://www.eci.gov.in to ensure you were registered.
At the polling station, you enter and present your voter card along with your photo-ID. Your name is then crossed off the master list as having voted and your left index finger is marked with indelible ink to prevent fraud. Some may laugh at this seemingly primitive modus operandi, but a month later I still haven't been able to get the damn thing off! With your finger suitably marked, you walk behind a screen constructed out of a beaten-out cardboard box where the voting machine awaits. You simply press the big blue button next to the candidate you want to vote for. A "beep" sound indicates that your vote has been recorded and you are now free to move on with your life, your democratic responsibility complete for another 5 years.

All good things must come to an end, but my whistlestop journey to India seemed to end far too soon. With three 744s due to leave for Heathrow within hours of each other, I decided to pick the latest departure even though it involved a stop en route at Ahmedabad. My itinerary to Toronto involved a lengthy detour via Greece anyway, so one more stop didn't really make a difference.
As is my custom, I got the captain to authorize my jumpseat all the way through to Heathrow on the off-chance that the aircraft filled up beyond capacity at the transit stop. I was very amused that the pilot recognized me from the newspaper article the previous week as he was signing off on the jumpseat! A quick pitstop at the Maharaja Lounge for some coffee and I was boarding today's ride, the baby of the fleet named "Velhagoa" and one of my personal favorite Air India aircraft.
After being instructed to pick any open seat upstairs for the first leg, I relaxed with a glass of watermelon juice and a nice cold towel as we taxied out for runway 27. Breakfast was served on the short 45 minute flight.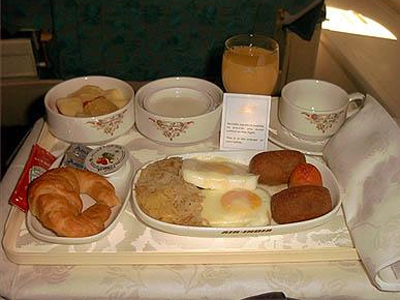 Soon enough we touched down on runway 31 at Ahmedabad's Sardar Vallabhbhai Patel International Airport. To call it an "airport" is highly optimistic though. Sardar Vallabhbhai Patel International Aviation Services Shack would be far more appropriate. To be fair, the domestic terminal is pretty nice but the international facilities are non-existant. How this airport handles a daily flight to Paris/Newark, plus nonstops to Heathrow and soon Dubai and Singapore too is beyond me. I guess they must be setting out folding tables on the lawn for customs!
Still, Ahmedabad had managed to provide 404 passengers for London today, with 384 of those in Economy however. With only 3 revenue passengers up front plus a deadheading pilot, the new crew invited me to take a seat in one of the fabulous new First Class flat bed seats. Next to me was another nonrev, the son of a retired pilot who was working on his PhD at UC - Santa Barbara. We kept to ourselves in seats 3HK right at the back of the cabin so as to not disturb the revenue passengers.
Air India was having a Gujarati food festival on the Ahmedabad to Heathrow route, so there was an unbelievable ridiculously huge breakfast spread available - a 3 course service all dished out and manually plated from silver platters on the service cart. The full menu included Watermelon or Mango appetizer, choice of a half dozen Kelloggs cereals, Papdi, Jalebi, Kaccha Kela Nu Shaak, Bateta Ni Sukhi Bhaji, Khatta Dhokla, Gujarati Kachori, Farali Pattice, Masala Poori, Methi Na Thepla, Rye Ni Mirchi, Nimbu Chutni, Pudina Chutni, Cheese Omelette, Egg Hubert with Mustard Cream Sauce, Grilled Fish with Lemon Parsley Butter, Chicken Nuggets, Rosemary Lamb Croquette, Duchess Potatoes, Tomato stuffed with Spinach and Grilled Mushrooms. Yes, this was breakfast. I was absolutely stuffed by the end of the meal and took the opportunity to put the seat into its flat sleeping position (complete with soft down duvet) and nod off for almost 5 hours.
Awake in time for lunch, which was an event in itself. Air India has always been generous with the liquor and a nice bar had been set up for the use of First Class passengers while the crew prepped for the meal. We started off with green salad garnished with watermelon seeds, cottage cheese, yellow/green peppers and Thousand Island dressing. Other options from the food festival menu were Khandvi, Patra and Dahi Wada. Next up was my favorite course - Malassol Caviar with garnish, smoked salmon, jumbo prawn with lemon and Melba toast - served with a shot of Russian Vodka of course. This was followed by a choice of Cream of Asparagus soup with Crostini (which I picked) or Lamb Consomme.
And then they rolled out the cart with the main course. It was almost wasteful to see the sheer amount of food and options available. The main course service cart featured Lobster Benedictine, Dill Potatoes, Steamed Vegetables, Chicken Tikka Lababdar, Bhuna Gosht, Bhinda Ni Kadhi, Bharela Ringna Bateta, Sev Tamata, Turia Vatana, Fansi Dokhli, Vatana Nu Pulao, Khichdi, Doodhi Chana Ni Dal, Yoghurt, Roti, Papadum, Keri Nu Chundo, Pickles and Chutney. I started off with some of the Lobster with potatoes, but the Purser insisted that I sample virtually everything, making sure that he topped up my plate three times during the meal.
As if this wasn't enough, they then rolled out the dessert cart. Today this featured a Fresh Fruit platter on banana leaf with Watermelon, Melon, Papaya, Mango, Strawberry, Pineapple and Grapes; Orange Gateau; Malai Kulfi with Falooda; Aamrakhand and a Selection of Cheeses. I tried to stick with just some cake, but the Purser made sure that I sampled the kulfi (Indian whole-cream icecream) too.
Following this, the Purser came around to offer us a selection of very elegant Indian mithai sweetmeats and then handed out individual boxes of Saunf Aftermint and even Calcutta Paan! Maybe its just me, but somehow the concept of eating paan in First Class at 35000 feet had me collapsing in uncontrollable laughter. Still, the entire meal was out of this world. Now I truly knew how the lavish old Maharajas used to live! After 8.5 hours of this pampering, we touched down at Heathrow - far too soon if you ask me.
I made the most of my short layover in London, heading out for drinks with friends at the Green Man pub near Hatton Cross. Around 8pm, it was time to head back to Terminal 2 for my Olympic Airways flight to Athens.
Due to Alitalia going on one of its periodic strikes earlier in the day, the "wide open" redeye to Athens had now filled up to the point that it was no longer an absolute shoo-in for an interline nonrev. I spoke to the duty manager and she told me not to worry and that she would ask the captain to release the jumpseat if they wound up with no cabin seats. Fortunately it didn't come to that and they managed to find space for both myself and an Alitalia employee.
We were delayed almost an hour from Heathrow due to traffic congestion and were only airborne at 11pm. The crew did an incredible job handing out meals to a packed cabin in only 15 minutes so that we could salvage as much sleep as we could. While the chicken breast served was rather dry, the taramosalata appetizer was absolutely out of this world. Still, I was able to grab about 2 hours of sleep before we touched down at Athens just before 5am.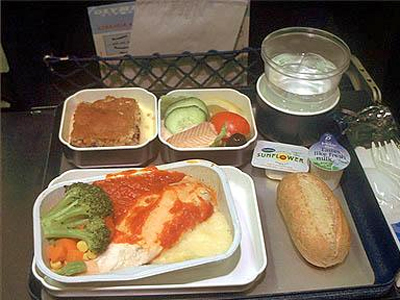 I really can't think of a better airport to spend a morning at than the new one at Athens. There are plenty of distractions to pass the time, including a museum of artifacts excavated from the airport site, an exhibit of environmental factors at the airport and another museum on the life of Eleftherios Venizelos after who the airport is named. There are plenty of food options, including a McDonald's that features an amazing view of the runway and aircraft on approach. There are also free internet kiosks located all around the terminal if you simply cannot live without being online.
Of course, I could hardly go to Athens without visiting the Olympic store. I spent a good hour there browsing through overpriced "Officially Licensed Merchandise". By then it was time to freshen up and get myself on the standby list for the flight to Toronto.
This flight was also pretty full, but they managed to find space for me - even though it was in the absolute last row of the Airbus 340 named "Olympia". We were quickly airborne for the almost 10 hour flight and the crew came around first with the drink and then the lunch service. I was absolutely blown away by the appetizer on the lunch tray. It consisted of a HUGE heap of smoked salmon, a generous mound of taramosalata and a nice succulent dolma. Very impressive. The main course was salmon steak with cauliflower and rice, and it was also quite delicious. Definitely two thumbs up to Olympic's catering.
Two thumbs down to them for IFE though. The sheer ridiculousness of the situation still makes me laugh. Despite having a 12-channel PTV system installed in every seat of the economy class cabin (including the dreadful underseat box that eats into the legroom), when they screen a movie they screen the same movie on all 12 channels. And when it is done, they rewind the tape and show the same movie again. Lather. Rinse. Repeat. Today's screening was "I am Sam" with Sean Penn and Dakota Fanning, a wonderful movie the first two times... At least the repetitive IFE encouraged sleep. A second meal was served before we landed in Montreal, although the open sandwich it featured wasn't much to write home about.
The 45 minute transit stop went by very quickly as we discharged half our passengers and took on some fuel for the quick hop to Toronto. The customs officer asked which country I had visited on my 10 days away and looked at me rather strangely when I rattled off the list, but I was waved through without any delays. My cousin was waiting to drive me home and I finally collapsed into a real bed after 43 hours continuously on the road. What an incredible 10 days it had been!